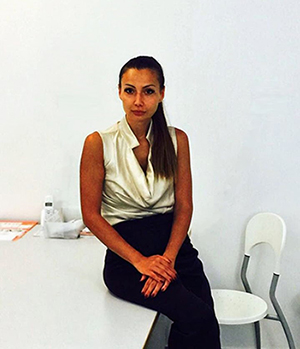 Laureata e presso l'università di Medicina e Chirurgia con 110/110 e lode e specializzata in Dermatologia e Venereologia con 50/50 e lode ad Ancona, presso l'Università Politecnica delle Marche.
Attualmente in possesso di una borsa di studio che la vede impegnata presso lo stesso reparto, con attività incentrata sullo studio delle malattie infiammatorie croniche della cute. Svolge inoltre attività dermatologica, venereologica e di medicina estetica, libero professionale, in ambulatori dislocati sul territorio marchigiano.
Negli anni ha scritto e scrive diversi lavori scientifici pubblicati su importanti riviste mediche di carattere nazionale ed internazionale.
In continuo aggiornamento professionale, partecipa a numerosi congressi e corsi in ambito dermatologico anche con presentazioni orali e di poster ed in campo medico estetico.
Graduated at the University of Medicine and Surgery with 110/110 and praise, and specializing in Dermatology and Venereology with 50/50 and praise in Ancona, at the Polytechnic University of Marche.
Currently holds a scholarship that sees her engaged in the same department, focusing on the study of chronic inflammatory skin diseases. She also carries out dermatological, venereological and aesthetic medicine, in professional outpatient clinics located in the Marche region.
Over the years she has written and writes several scientific papers published on important national and international medical journals.
In continuous professional upgrading, she participates in numerous conferences and dermatological courses also with oral presentations and posters and in aesthetic medical field.